Phase 1 intervention
These types of interventions are often called "Phase 1" or "preliminary" treatments because they usually need to be followed by other corrections later. Preliminary treatments at an early age:
are not a guarantee that all permanent teeth will come out properly and that other more comprehensive forms of treatment will not be needed later when the dentition is completed;
can make future procedures simpler, faster and less costly for patients;
can often allow the orthodontist to better use growth to correct jaw imbalances without surgery;
can decrease the chances of having to extract permanent teeth later;
can help stop thumb and finger sucking habits;
minimize the chance that permanent teeth will not come out and remain trapped (teeth included)
may, in some cases, be the only orthodontic intervention needed when a problem can be corrected early (see an example later in this page).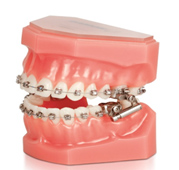 As we monitor the development of your child's teeth, we will be able to explain what may be required to achieve aesthetic and functional teeth.